Visit Website
Get 2.58% Cashback
YesAsia
---
We sell Japanese, Korean, and Chinese Movies, Music, TV Dramas, Games, Books, Collectibles and more!
Welcome to YesAsia.com. We are the number one online shopping website for Asian entertainment products covering Asian movies and videos, Japanese, Korean.YesAsia.com (formerly AsiaCD.com) is an online retail store company founded in 1998 that sells Asian entertainment products (music, video, karaoke, games,
---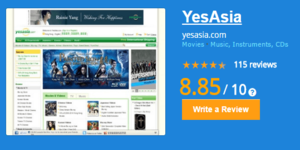 Bulk Purchase Discounts.5% discount on orders valued at $500 or above.
Get 2.58% Cashback
Valid Till December 31, 2037